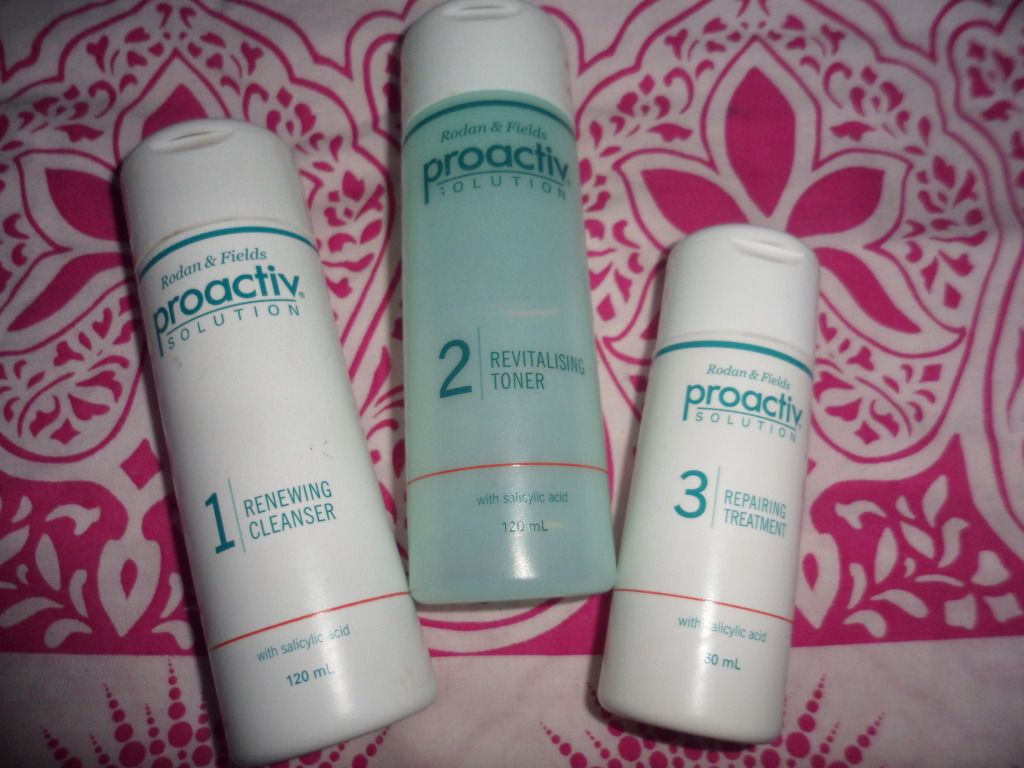 ProActiv is a 3-step acne treatment system which helps to clear blemishes and prevent future breakouts from happening. It uses salicylic acid as its active ingredient and I'm sure you've all seen the infomercials sporting the likes of Jessica Simpson and Katy Perry as spokeswomen, that's how I first heard of the brand and as soon as I heard that it was stocked in Boots, I went and picked it up.
The kit, priced at £39.99 consists of:
Step One: The Renewing Cleanser which is a gentle cleanser containing tiny exfoliating microbeads to scrub away impurities and dead skin cells so they can't clog the pores.

Step Two: The Revitalising Toner which helps to balance the skin tone, remove excess oil and soothe the skin after the cleanser.

Step Three: The Repairing Treatment which dries up blemishes and prevents new breakouts.
I have loved using this system, and the Cleanser and Treatment, I feel, have generated the most improvement in my skin. I like things to feel like they're working, the Cleanser leaves your skin soft and smooth and the Treatment dries out the blemishes, but for me the Toner felt like it was doing nothing. I removed this step and replaced it with the Neutrogena Visibly Clear Spot Stress Control 3-in-1 Daily Cleansing Lotion, and the results I saw were amazing! After using the system for 2 months (removing the Toner after 6 weeks) my skin is almost clear and I haven't had any new breakouts. So much so, for the past few days I've not worn ANY foundation, which coming from a girl who had to resort to Vichy Dermablend, is really something! However, the improvement was not instant, I have only just started seeing the noticeable results in the last 2/3 weeks. So if you've just started the system, don't get discouraged!
I genuinely thought there was no hope left for my skin, that I was destined to have acne for a long time to come but ProActiv has really helped and I urge all of you acne sufferers to give it a go. I'm going to purchase my next kit from ProActiv directly as you get more products for your money, and I really want to give some more of the products a go.
Have you used ProActiv before? What were your results?