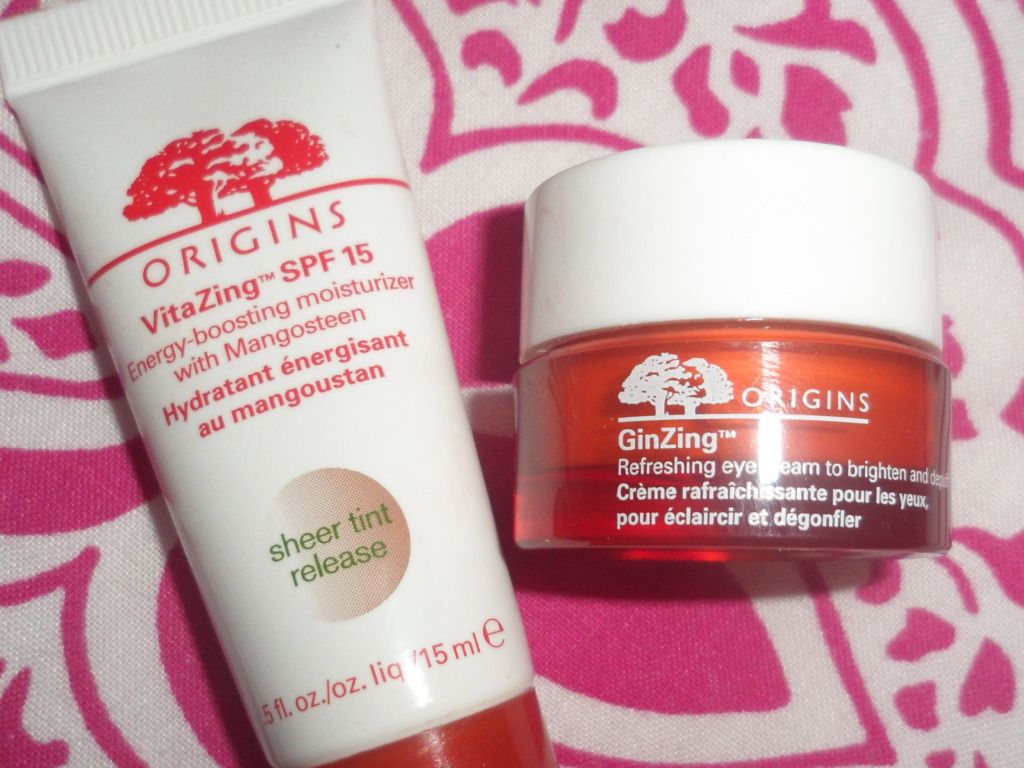 VitaZing £27 and GinZing £21
If you've not heard of these two products you've definitely been hiding under one massive beauty product rock! I recently ordered the Origins Super Spot Remover (review here) and as a bonus for purchasing online I got to choose a few sample products to try out. I picked up the VitaZing Energy Boosting Moisturiser and GinZing Refreshing Eye Cream amongst a few.
Origins VitaZing is a product I've been wanting to try for a while now. It is basically a light day moisturiser with a sheer tint, to perfect skin tone and leave it with a "holiday glow". The active ingredient is Mangosteen which has traditionally been used to treat skin problems due to its anti-inflammatory properties.
It's an oil free formula which feels light and fresh on the skin. The tint leaves a natural looking glow and imperfections in my skin tone appear less visible. In no way is this a replacement for foundation or even tinted moisturiser in my eyes, but it makes a great base for foundation. I do however feel that when I use this product, my skin is slightly more oily than usual at the end of the day, but on the other hand my makeup looks a lot better and applies with greater ease.
Overall, this is not a saviour or must have product in my opinion, but I am really enjoying using it. I will probably be repurchasing a full sized one nearer Spring time when I will be favouring less make up and a fresher look to the skin.
Origins GinZing is a brightening eye cream which aims to hydrate and de-puff the eyes. The product itself is a pearlescent tinted cream, with a slight 'foundation scent' to it. Caffeine, ginseng and magnolia extract all combine to pep up, brighten and disguise dark circles, instantly faking a long restful nights sleep.
I have absolutely loved using this moisturiser! My eye area is not only hydrated but bright, and using it has lessened my need for under-eye concealing. It has been such a life saver after a heavy night out and an early start to work, I dab this under my eyes and all evidence of the previous night is gone.
I will definitely be repurchasing this! A little goes such a long way and I can see this little 5ml sample lasting an age.
Have you tried either of these products? What did you think?
Much Love,
Lauran
xxx

Instagram || Facebook

||

Bloglovin' || Twitter