It seems like it was only yesterday I was recovering from my Christmas dinner but somehow the festive season has once again crept up on me and I haven't a clue what I'm getting anyone! Typical... But here's a few little ideas to get you all started on what to buy that woman in your life, whether it be Mum, Sister, Daughter or Girlfriend: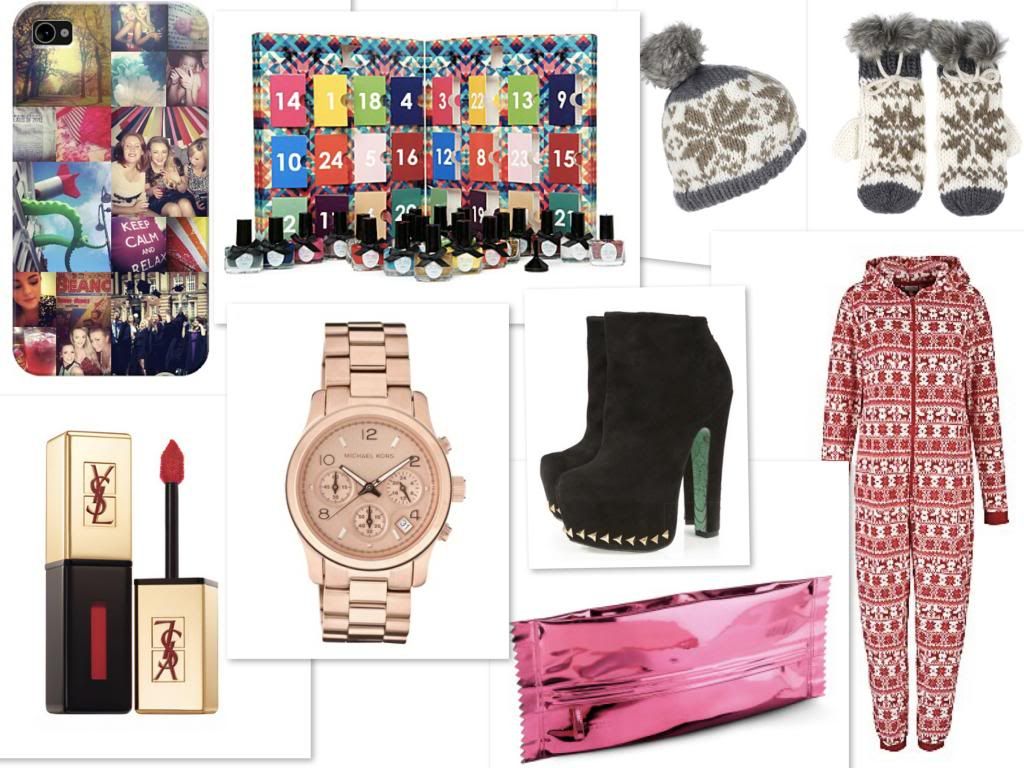 The Casetagram cases have to be my favourite little gift idea as they are completely customisable and there's one for most smart phones and other gadgets. You simply log in with your Instagram or Facebook details and can arrange your photos however you like to create a completely unique case. I'd add a bunch of family photos for a gift for my Mum, as me and my sister no longer live at home, or if it's for your girlfriend how about your favourite photos of you both together or a complication of photos from a recent trip. The possibilities are literally endless.
Everyone seems to be going mad for onesies at the minute! Whilst I love a good comical one I much prefer the Fair Isle print ones which hint towards Christmas rather than screaming it at you. Onesies are a great alternative to PJ's and so many brands have a wide range of designs to choose from, Primark and Boohoo.com for your lower price tag (£10 to £35) and OnePiece for the higher (£89 to £149).
A watch will always be a great gift that will last. Michael Kors ones have been my favourite for a while now and I love the rose gold tone, however River Island, Lipsy and ASOS all have some great dupes starting at just £22.
For a luxury stocking filler, The YSL Glossy Stains are great. A hybrid of lipstick, lip stain and lipgloss, this will be perfect regardless of her taste. The red colour is bold yet classic, meaning it will last the seasons and the gorgeous YSL packaging is definitely worth the price tag.
Although not to everyones taste the Sweetie Clutch is a great statement piece perfect for the party season. Designed by Maison Martin Margiela, this will definitely be a winner with those Fashion addicted women in your life.
Finally, the Mini Mani Month Advent Calendar by Ciaté is a beauty obsessives dream. Forget the chocolate, this advent calendar is packed with

17 of Ciaté's bestselling mini Paint Pots, four mini Caviar blends, and three exclusive Paint Pot glitter shades you'll not find anywhere else. I want mine now please!
Much Love,
Lauran
xxx
Instagram || Facebook

||

Bloglovin' || Twitter