Blonde hair is notoriously difficult to maintain, constantly threatening to turn various shades of orange and prone to becoming dry and breaking. Although mine is ombré, I treat it as if it was wholly blonde and here are my saviour products: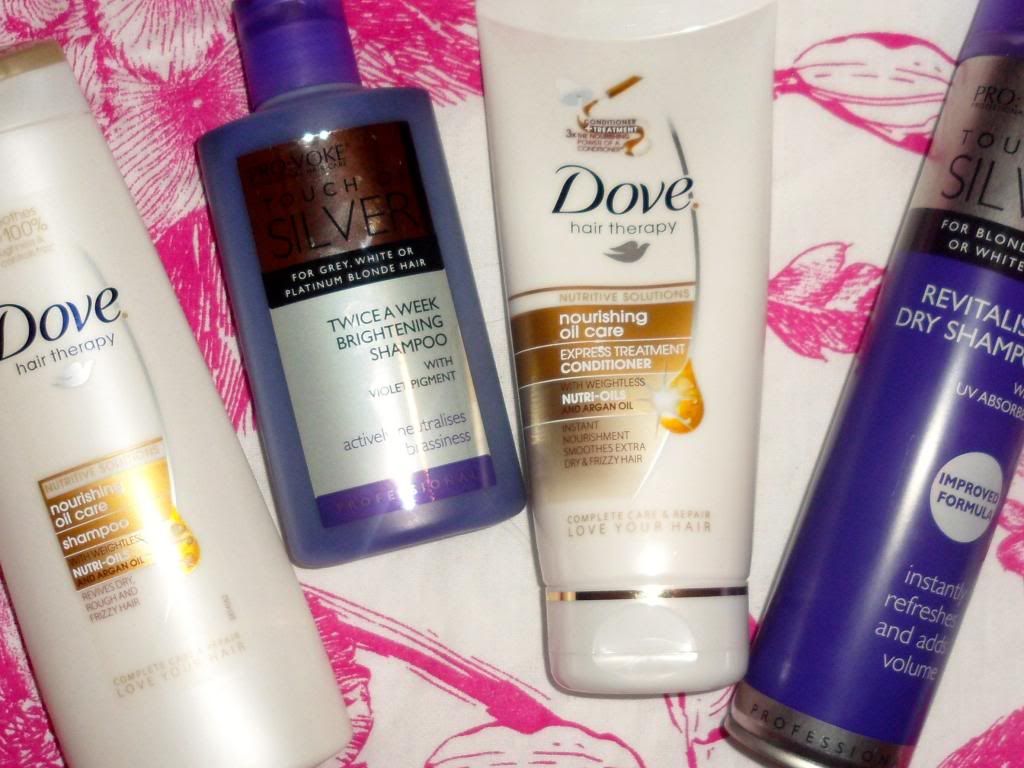 Dove Nourishing Oil Care Shampoo, Pro:Voke Brightening Shampoo, Dove Nourishing Oil Care Express Treatment Conditioner, Pro:Voke Revitalising Dry Shampoo
To counteract the dryness in my hair, I always pick up nourishing products alongside my usual John Frieda Go Blonder range. These Dove Nourishing Oil Care Shampoo and Express Treatment Conditioner contain a blend of Argan, Coconut and Almond oils to smooth, nourish and replenish the hairs fibres. The oils are instantly absorbed by the hair and you can instantly feel the difference in it and there's no oily residue.

The one product I always recommend for blonde hair is the Pro:Voke Touch of Silver Brightening Shampoo. The violet pigment knocks out any brassy tones and brings out the true blonde tones in your hair. It's £1.99 at the moment and hands down beats the more expensive toners and treatments on the market. I use this twice a week, but be careful how long you leave it on though as it can tone your hair violet if you have white/blonde hair. The Revitalising Dry Shampoo is different to other blonde dry shampoos in that it is not tinted. Its aimed at protecting colour treated hair with UV absorbers alongside refreshing and adding volume to hair styles. The formula is good too, I don't think it's as good as Batiste at refreshing hair, but it does leave a nice sheen to the hair whilst still making it look clean.

As well as these, I use the L'Oreal Elvive Extraodrinary Oil before blowdrying and as a finishing touch to seal in my style and keep any fly aways at bay.

What are your saviour products?

Much Love,
Lauran
xxx
Instagram || Facebook

||

Bloglovin' || Twitter