Ok so this year is going so quickly! March has been full of snow, illness and good food. It started with a trip back home to see the parents and a stop off at The Deep. I was so uninterested in this place when I was younger, but I felt like a little kid looking around it at the grand age of 21. If you like that sort of thing I'd definitely recommend a visit! Here's how my month panned out in photos...
March in photos:
Hotdogs at Primo's// My nail polish collection// Trinity Leeds opening show// Johnnie Cupcakes// Winter dressing in Spring// Snow and floral wellies// Donut burger at Reds True Barbecue// Neon frog at The Deep// The Easter bunny came// The boyfriend indulging in a little manicure// More snow!// Starting my Tiny Tea Teatox// Easter bunny ears!
Favourite products of March: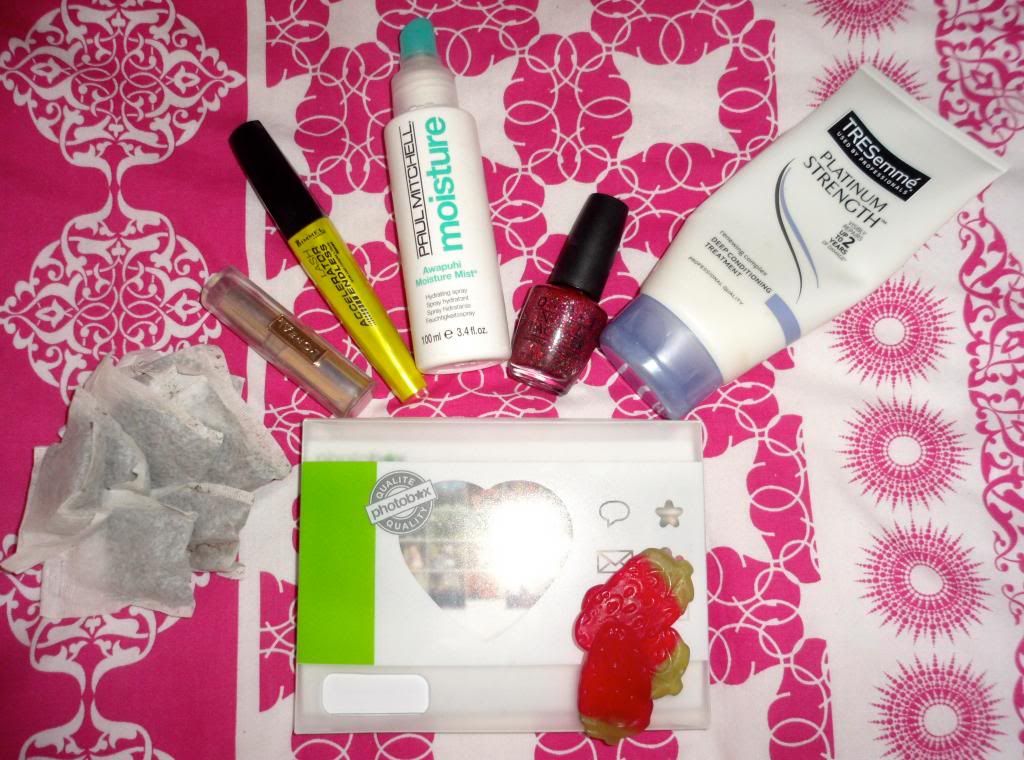 Hands down my favourite product of this month has been my Tiny Tea (first impressions post here). I've absolutely loved drinking it,how it's made me feel and the effects its had on my skin.
Products wise, I've been loving my L'Oreal Rouge Caresse lipstick in Impulsive Fuchsia. Its a bright blue toned pink and the moisturising formula's been great for this cold weather. Rimmel's new Lash Accelerator is all that has been gracing my lashes since I've bought it and I've even felt no need for eyeliner this month!
The Paul Mitchell Moisture is a product which has been going unloved in my collection for an age. I pulled it out a couple of weeks ago and spritzed it all over my hair before straightening and loved how smooth and soft my hair felt. This in conjunction with the TRESemmé conditioner have combated the frizz from the cold air/heating attacks. OPI's Excuse Moi! is another re-discovery from the depth of my glitter polish box and has graced my nails so much this month. I'm currently selling the rest of the collection here!
In terms of randoms, I've been loving Haribo Giant Strawbs (BEST SWEETS EVER!) and the Photobox service. You get 60 free prints when you sign up and I've finally got around to printing out all of my Graduation photos and brightening up my room.
Favourite Blogs of March:
Nouvelle Daily and I Covet Thee have been my favourite reads of March, and I've newly discovered COPPER GARDEN. I've also been hooked on the gorgeous Kavita from She Wears Fashion, her outfit posts are always so beautiful!
What I listened to in March:
I have been addicted to both Justin Timberlake's The 20/20 Experience (I've just re-fallen in love with the JT in general!) and Bastille's Bad Blood albums this month.
What I watched in March:
I managed to storm through the first two seasons of Game of Thrones, absolutely loving it and start watching Breaking Bad, which I'm not quite loving just yet.
I hope you like this new favourites layout/post. What have you been loving this month?

Much Love,
Lauran
xxx
Instagram || Facebook

||

Bloglovin' || Twitter