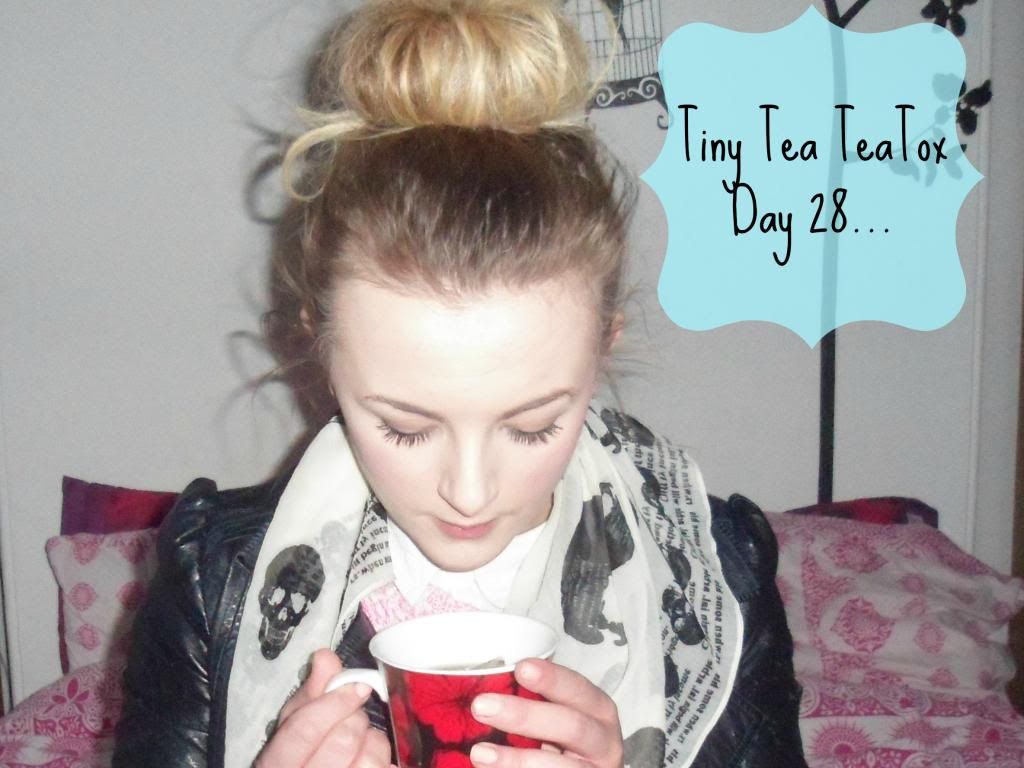 You might remember that I was kindly sent a Tiny Tea TeaTox by the lovely guys over at YourTea (check out my previous posts here and here). I've finally finished the whole TeaTox (doing two lots of 2 weeks with 2 weeks break in the middle) and here's what I thought about the whole experience.
Firstly, my absolutely favourite benefit of the TeaTox has been the increase in energy levels. My first cup in the morning gives you a kick start and those dreaded 8am work mornings are much more bearable. The tea is also great for after workouts and the course as a whole has made my workouts more effective, I feel like I have more energy and so can workout for longer. Bloating is impressively reduced, I can't usually step near pasta or pizza without looking like I'm with child, but if I drink this beforehand, the bloating afterwards is hardly noticeable.
Breakouts have reduced also. I recently changed up my skincare routine (post here) and in conjunction with the Tiny Tea TeaTox the large painful breakouts have almost stopped. I still get the odd spot, but instead of hanging around for weeks, they're gone in a day or two leaving minimal scarring behind.
Going through my comments, a lot of you have been worried about laxative side effects that are common amongst a lot of weightless teas. I haven't encountered any. The product is really calm on the system, I have found that I go to the loo a bit more, but that's due to the fact I'm drinking a lot more water!
Another commenter asked whether I get an upset stomach drinking this and eating takeaway food. I didn't experience any sort of illness when drinking this. Obviously, to gain much better results, a healthy lifestyle approach is vital, but I allowed myself the occasional treat and my results were not hindered. I also feel that I've felt better in myself, no signs of colds etc and I'm generally in a happier mood (that'll be the energy!).
The website suggests that you do not eat cold foods and raw veggies. This is purely down to the fact that cold things slow down your metabolism. It is still safe to eat these kinds of foods, but it's better to eat them warm in order to kick start your metabolism.
I haven't weighed myself, as I've said before, weight isn't the best judge (muscle weighs more than fat!), but I've noticed that I have a MUCH flatter stomach, my thighs are slimmer and my arms aren't as wobbly!
I would definitely recommend this system to anyone who wants to lose a few pounds for a special occasion, I know I'll be ordering another 28days before I go on holiday this Summer! YourTea DO ship internationally (check out this page for details on how to order) and they have a range of different TeaToxes available from ones specifically combined to target cellulite and one for men.
If you have any other questions, please leave a comment (or check my Contact page) for other methods and I'll get back to you as soon as I can.
Much Love,
Lauran
xxx
Instagram || Facebook

||

Bloglovin' || Twitter