It's monthly favourites time!

May and June were amazing months with so much summer sunshine, a gorgeous wedding, interviews, moving house and my 22nd Birthday. A month of appreciating what I have rather than what I want and loving every second of it.
June in Photos: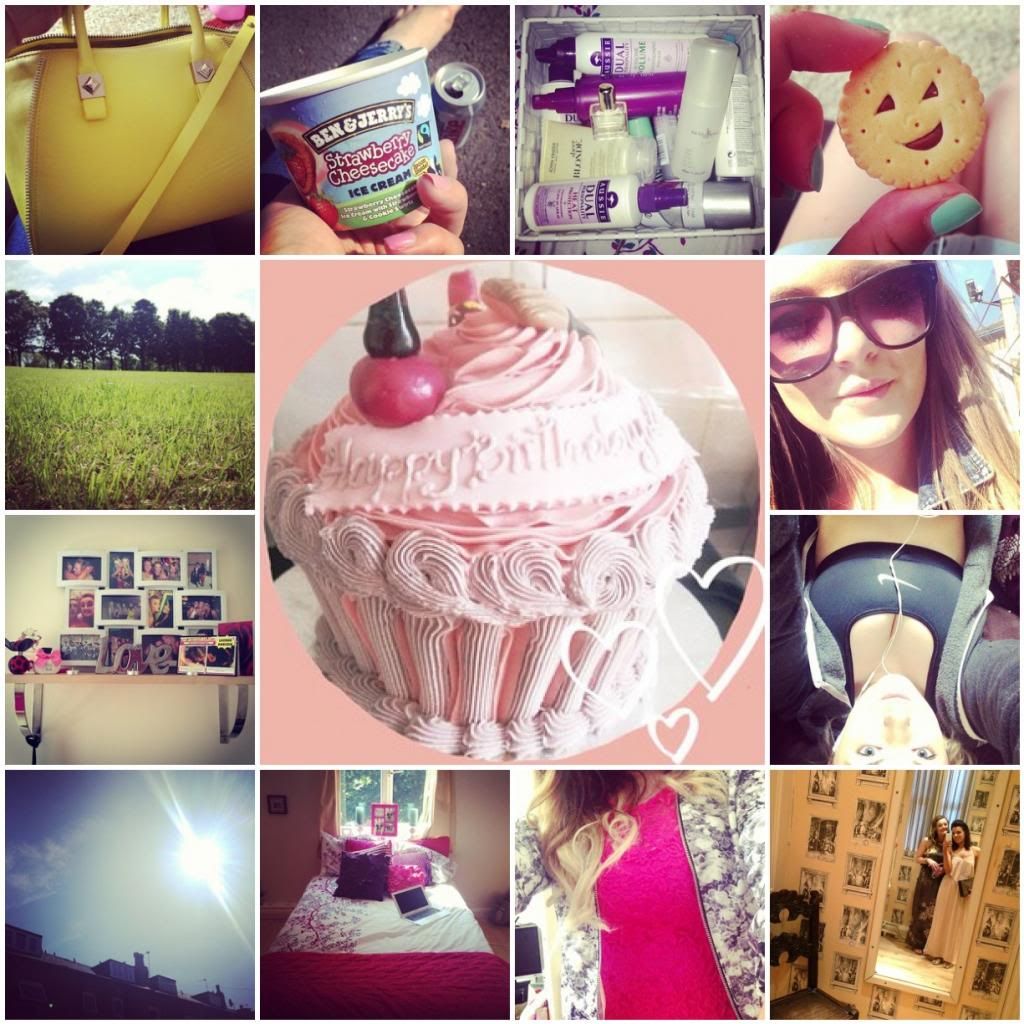 Gorgeous new Zara bag// Ben & Jerry's in the sunshine// Haircare stash// BN BN// Relaxing morning in Hyde Park// Enjoying the sunshine in massive shades// Memories shelf// Tired after my first workout// Summer sky// New bedroom// Neon floral interview outfit// Posing at a friends wedding// Birthday cake!!
Favourite products of June:
A relatively small number of favourites this month. I think i've actually fallen in love with the scent of the Sugar Crush range by Soap & Glory. It's predominately citrus and is a such an energising and happy scent, perfect for Summer. The products themselves are really nourishing and the scrub is great because it's not too abrasive and doesn't leave a greasy layer on the skin.
The Aussie 3 Minute Miracle Reconstructor is a product I'm rarely without, an when I am my hair definitely misses it. It's the only thing that adds some smoothness to my parched ends and the sweet smell lingers on the hair.
Finally, Marc Jacobs Daisy Eau So Fresh needs no description. It's a beautiful light, sweet, floral scent which was made for the Summer months. I just can't get enough of sniffing this stuff!
Random Favourite... Peanut Butter Ice Cream. Oh Lord! I am seriously addicted. The one from ASDA is nice but the Ben & Jerry's Peanut Butter Me Up I have no words for... Let my arteries turn to peanut butter!
Favourite Blogs of June:
Two favourites this month; In the fashion corner it's the beautiful Amy from Amy Valentine. Her photos and style are just stunning and she makes me wish I could pull off pastel hair; and in the beauty corner Amelia Liana from Liana Beauty. Her YouTube videos have made her blog all the more relatable and she has a make-up/skincare collection that most of us could only dream of... Major envy!
What I've listened to in June:
Disclosure, Rudimental and Swedish House Mafia albums have all been helping me keep myself in an upbeat mood whilst working out and are definitely soundtracks to my Summer!
What I've been watching in June:
Ok. Let's just address Big Brother. Why can't I stop watching it?!
Hope you enjoyed my favourites this month. Comment below with some of your favourite things from the month of June.
Lauran
xxx
Instagram || Facebook

||

Bloglovin' || Twitter