I've been really getting into the science behind skincare recently and Caroline Hirons' blog BeautyMouth is a fountain of knowledge on the subject, and using her blog I've come up with a wishlist of gorgeous skincare for my blemish prone skin. You can check out my 'Morning Routine' here.
The purpose of an 'Evening Routine' is to - as Caroline says - help your skin help itself, by removing all makeup and nasties the day throws at you and giving it all the nutrients it needs.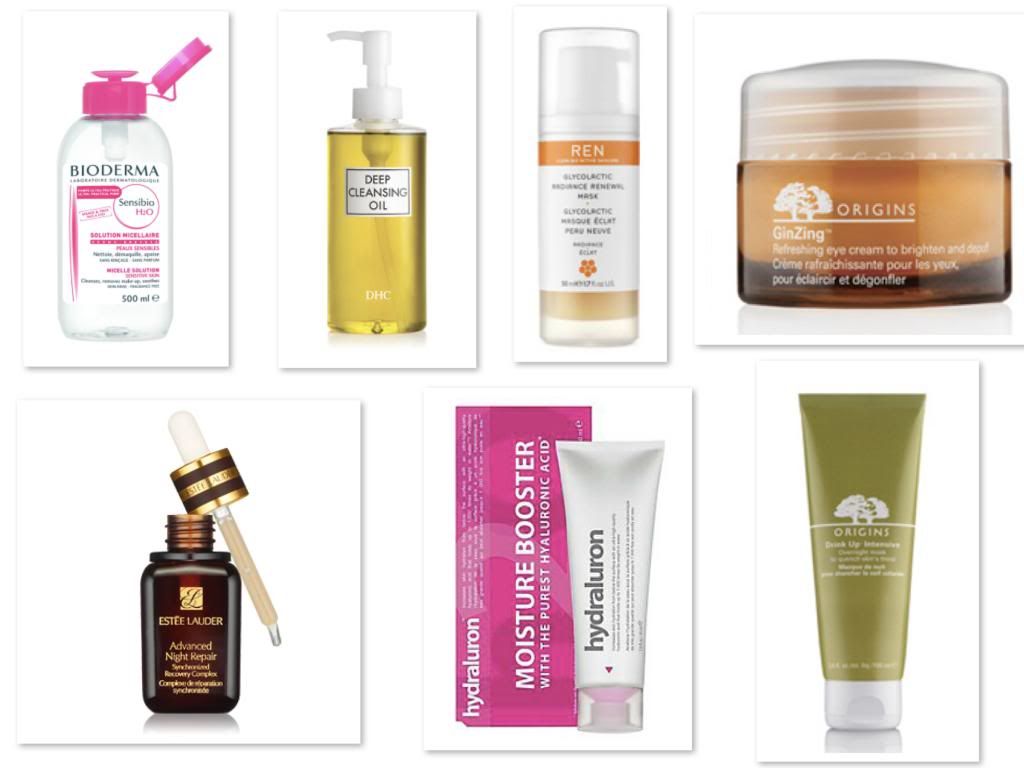 Cleanse:
First Cleanse - Bioderma to get rid of the top layer of makeup and grime and make it easier for the next step.
Second Cleanse - DHC Deep Cleansing Oil makes cleansing my skin such an easy task and it dissolves everything in its path whilst nourishing my skin. Doing this ensures that I actually wash my face rather than giving it the cotton pad treatment.
Tone:
Using the REN Glycolactic Radiance Renewal Mask will ensure that my skin is prepped and all dead skin cells are sloughed away. Acid is good for your skin! This is a mask formula so a bit more pampering for the night time. I'd stay away from a hydrating toner on a night time as I think the rest of the products I've picked have hydration covered.
Eye Cream:
I absolutely love the GinZing Eye Cream and I don't think that it is just for the daytime at all. It's lovely and light but moisturising enough that you see a difference.
Treatments:
The Esteé Lauder Advanced Night Repair Serum is something that has been on my wishlist for such a long time. It has recently been reformulated too which is most definitely a sign that I should pick it up soon. I'd use this to hydrate my skin and help with scarring and blemishes. I've heard great things about the Una Brennan range from boots though and the Superfacialist Miracle Makeover Facial Oil seems like a great (and cheaper) alternative. I'd definitely pop on some Origins Super Spot Remover on any active blemishes I have as this seems to shrink the blemish overnight without drying out my skin too much.
Moisturise:
Hydraluron is one of those cult beauty product that is raved about a lot in the Beauty Community and I really want to give it a go. It contains hyaluronic acid which can hold a ridiclous amount of moisture and lock it into the skin. Using this before a moisturiser makes it more effective. I would also pick up the Origins Drink Up Intensive to add some much needed hydration to my skin.
What's your night time routine like? Do you have any recommendations for my acne prone skin?

Much Love,
Lauran
xxx
Instagram || Facebook

||

Bloglovin' || Twitter