I saw this tag video on one of my recent YouTube catch-up sessions and thought it would transpire well into a blog post. I love seeing what apps people use on a day to day basis so here's what my iPhone 5 is loaded up with:
My case is the Marc Jacobs Katie Bunny it's made of silicone which makes it really durable. My lock screen is currently a photo of my boyfriend walking through some fields from a recent trip to a local farm. I love photos like this!
I am so anal with the layout of my phone, I like it to be in a particular order and HATE using those categories. My background is a bunch of flowers my boyfriend sent me for our anniversary whilst he was away in Tomorrowland.
The top row of apps contains my daily necessities, the calendar (which I don't really use, it's just there for the date and to count down how many days it is until payday), my contacts, clock for the alarm and photos, which I use for my job as well as snapping random occurrences My second, third and fourth rows are all pretty much social network based and I check these obsessively... I think I may have a problem. I keep a bookmark link to my blog on here too as I can quickly reply to comments and double check what has gone live from it.
I use pages to update and run my Facebook page for my Blog...
...and Bloglovin' to keep up to date with the Blogs that I follow. This is far better than the Blogger app and makes reading blogposts on the iPhone so much more enjoyable. I wish it made it easier to post comments though, I always forget to!
The only reminder set on my phone is for the #BBloggers chat on a Sunday evening. I've really got into taking part in this chat in recent weeks, all of the bloggers who take part are amazing, have fantastic advice and of course are huge enablers.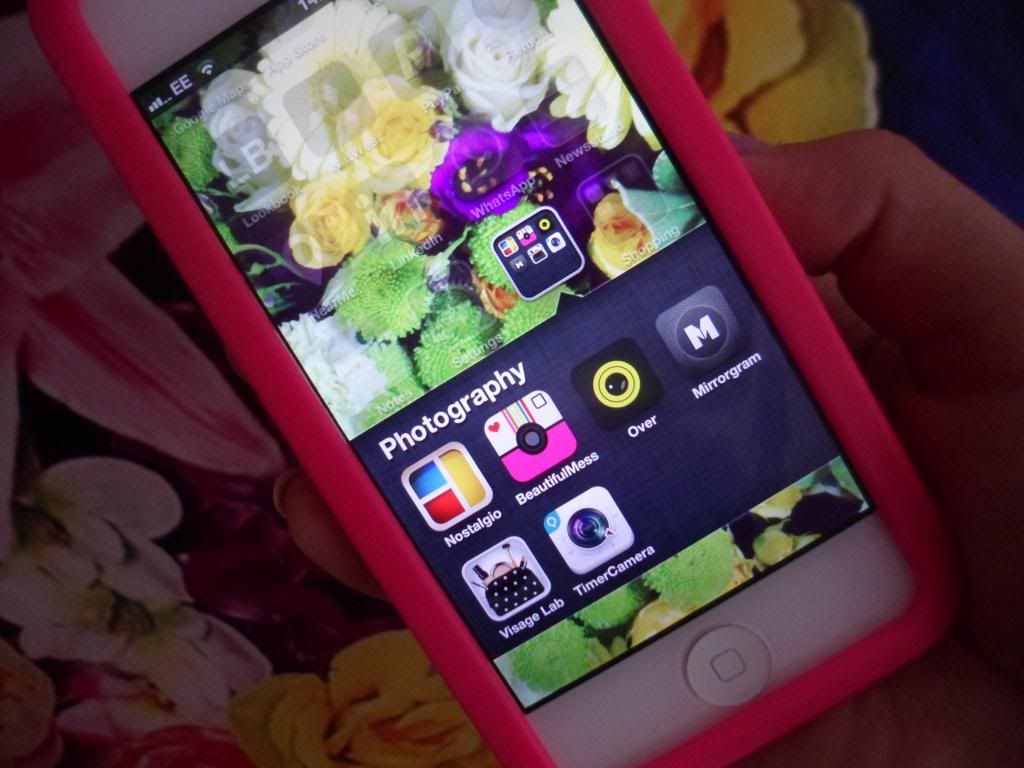 My second page has all of the apps I use less frequently. The "Near Me" app is fantastic if you're in an unfamiliar city and want to find something, the app connects with Google Maps to direct you to where you need to go. I have the Blogger app on there just in case I need to make some on-the-go changes to my posts and WhatsApp to keep in contact and send photos to friends who don't have iPhones or are in another country. I use notes quite regularly when an idea comes to my head and I don't have a notebook to hand, it is quite basic, but it does the job.
My favourite section has to be my photography category (yes, it does annoy me that they are in a category) which contains Nostalgio which I use to create collages, A Beautiful Mess and Over which I use to edit and Mirrorgram and Visage Lab to add effects.
The only apps that are really missing are organisational/planning type apps. Do you have any recommendations?
Much Love,
Lauran
xxx
Instagram || Facebook

||

Bloglovin' || Twitter