This dessert has literally saved my sanity this weekend. After a truly terrible week, I've felt really down and in a bid to cheer me up, my boyfriend made me this gorgeous, bordering on 'healthy', dessert (the Boy can bake, who the hell knew?!). The ingredients used can be taken to Paleo by using 80% dark chocolate, sweetener, coconut flour and coconut oil, use 'normal' ingredients for a more naughty desserts.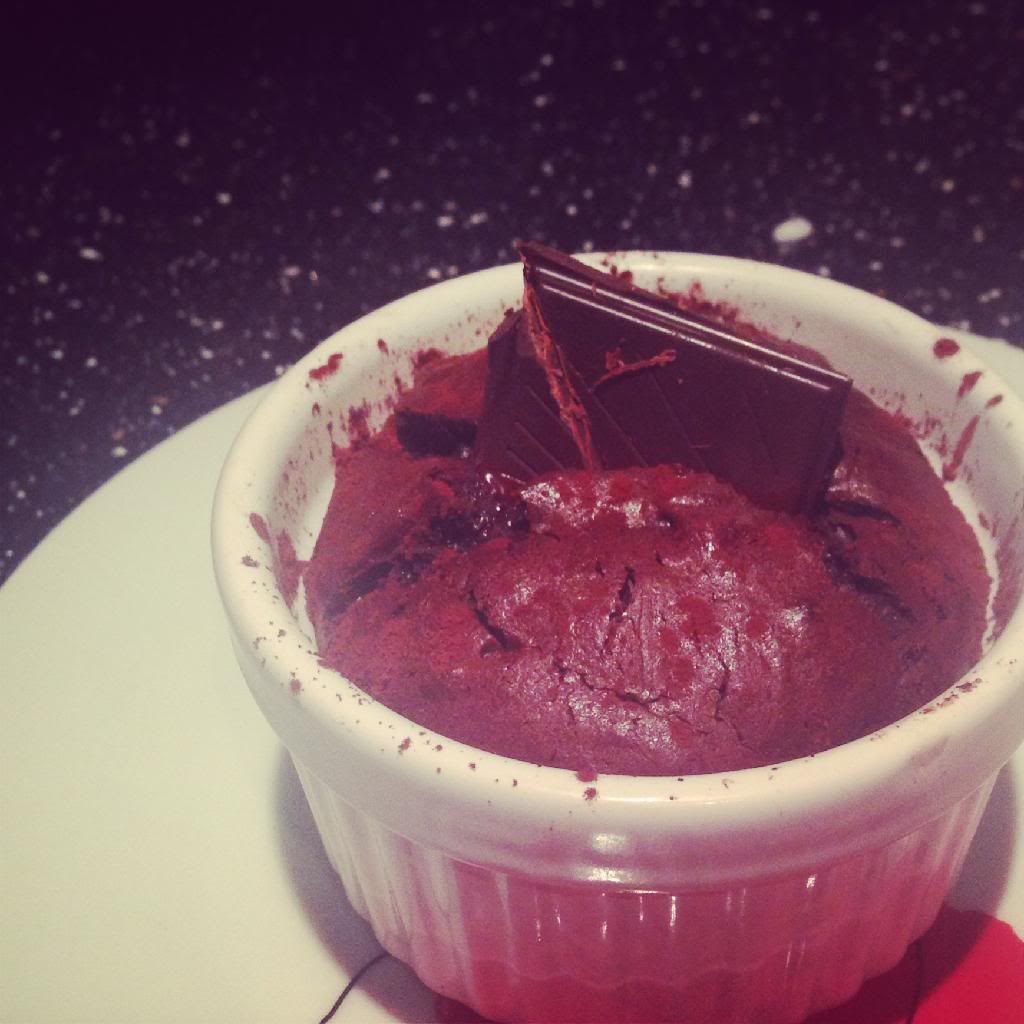 Ingredients:
110g of dark chocolate
4 tbsp of oil
2 eggs
Pinch of salt
1tsp vanilla extract
1. Preheat the oven to 175C (fan assisted). Break up the chocolate into a microwave safe bowl and add the oil. Microwave for about 1 minute, stirring occasionally to make sure it doesn't burn. Set aside to cool.
2. In another bowl, crack the eggs and add in the salt, sugar and vanilla extract. Whisk together until the mixture is light and frothy. This takes quite a while if using a standard whisk. I suggest bribing someone to do it for you.
3. Once whisked, the chocolate should have cooled a little. Add the egg mixture to the chocolate and sift in the flour and cacao powder. Gently fold the ingredients so you don't knock out all of the air, until all of the ingredients are combined. It'll look a bit like chocolate pudding.
4. Pour the mixture equally between two greased ramekins making sure you leave about half an inch from the top.
5. Put in the oven for 12 minutes. It should crack and look lovely and gooey when you take it out. Leave to stand for a few minutes to set up a little and allow the liquid chocolate centre to cool a little.
This dessert is lovely and cakey on the outside and gooey chocolateyness on the inside. I can't believe how easy you can make something so delicious. Let me know if you try out this dessert and how it turned out for you. It literally tastes like heaven!!