I made this sumptuous cheesecake last Sunday as a test run and it was a hit across the whole household. A gorgeously creamy cheesecake punctuated with chewy Munchies and of course a crunchy biscuit base.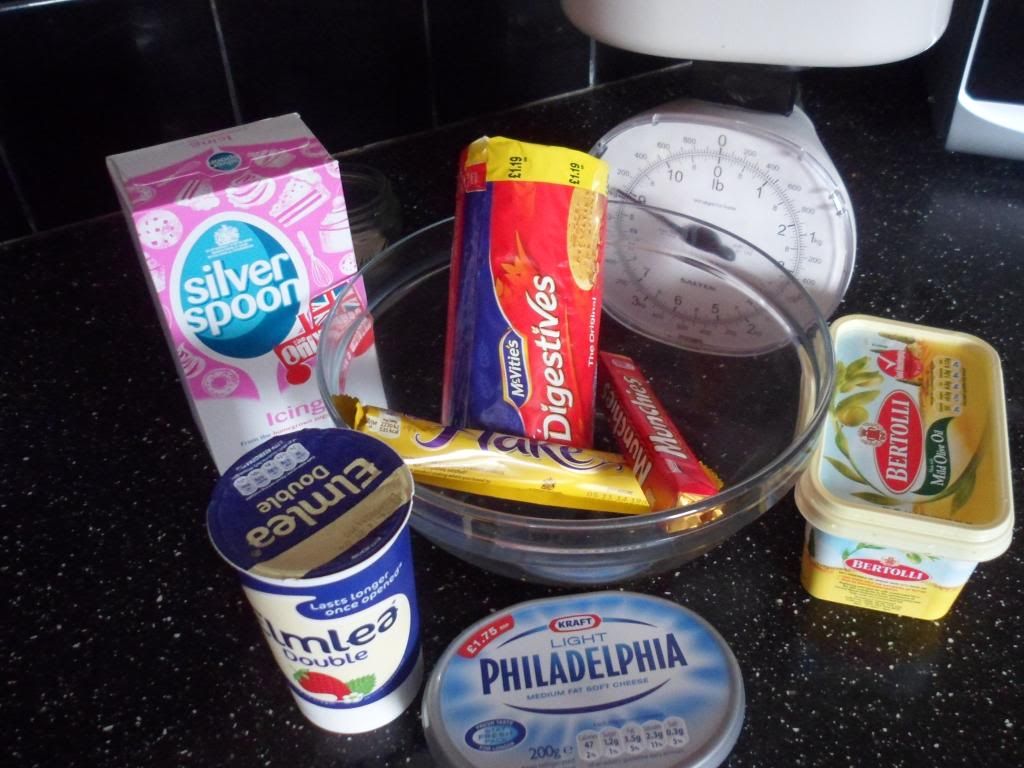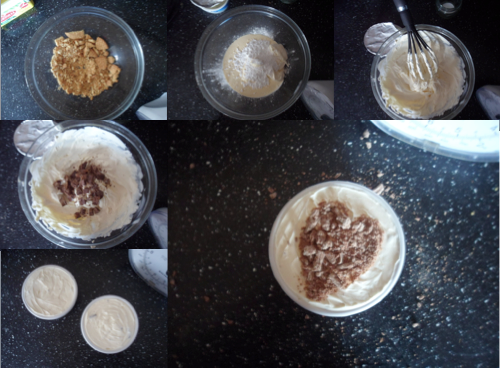 Ingredients:
5 Digestive biscuits
20g Melted butter
160g Philadelphia (I used light but the full fat version would probably work better)
180g Double cream
20g Icing sugar
1 Tube of Munchies
1 Flake
How-To:
1. Place your biscuits in a bowl and smash up to create crumbs. I used a whisk for this, but a rolling pin would have been more effective!
2. Melt your butter in the microwave (about 20-30 seconds) and pour into your biscuit crumbs. Mix together well.
3. Take your five serving bowls, I made two really large cheesecakes out of this mixture but it can make up to five individual servings, and add a few spoonfuls of mixture into the bottom. Make sure you press this down firmly to create a crunchy base for your cheesecake. Put these in the fridge while you get on with the filling.
4. Add your softened cream cheese, cream and icing sugar into a bowl and mix together until it holds strong peaks. This would be a lot easier to do with an electric whisk, but I did fine with a hand whisk.
5. Cut up your Munchies and add to the mixture. You could use any type of chocolate you wanted, a Dairy Milk Caramel would be lovely!
6. Divide your mixture between your bowls and level off. Put back in the fridge to set for at least 2 hours.
7. Sprinkle over with some crumbled Flake and tuck in.
This was not at all as sickly as it sounds and was actually a lovely end to a meal, if not a little heavy (that may have had something to do with dividing a mixture meant for five between two...) So, whether you're out to impress someone and cooking a romantic meal, or want an indulgent treat to enjoy with some rom-coms and your best girl friends, then this is definitely the fool-proof recipe you need to try!
This recipe was adapted from
this Philadelphia one
, and if cheesecake isn't your thing then try out my
Chocolate Fondant Recipe
. Let me know if you try either.
Much Love,
Lauran
xxx
Instagram
||
Facebook
||
Bloglovin'
||
Twitter