The night kicked off with cocktails and champagne whilst I got chatting with
Laura
and
Anton
, snapping a few outfit photos and a obligatory Photo Booth session. We were lead into the Refectory and local band Purple Emperors started off the show. We were then introduced to the show with a touching speech about the two charities Leeds RAG was supporting,
SUDEP Action
and Support After Rape & Sexual Violence Leeds (
SARSVL
). It was lovely to hear just how involved the students and organisers were with the two charities.
This year's show Wanderlust, marked their 10th Show and took inspiration from exploratory travel, natural landscapes and exotic environments. Unfortunately, I had to leave at the interval to go to work, but I thoroughly enjoyed the first half of the show which showcased works by
Casper Oliver
, AQAQ, American Apparel and
Leutton Postle
.
The first collection was called Bohemian Rose and was inspired by fields, meadows and wild flowers. I really liked the dusty colour palette, delicate fabrics and florals that these outfits had to offer and the paring of heavy leather jackets and spring dresses was definitely something I could see myself wearing.
That sequin jacket!
The Burnt Earth collection had to be my favourite of the night. A gothic theme, all black outfits with lashings of black lipstick and winged liner with hints of hot pink and orange. I loved the heavy leather, cut-outs, headpieces and the out-there duvet coat by Philli Wood. Most of the collection was ready-to-buy by AQ/AQ.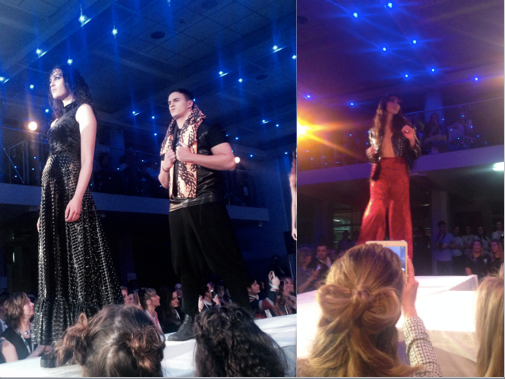 I wish I could pull off this leather jacket look!
The final collection I saw was Fresh Water Pearl, inspired by steam, oasis and blue lagoons and comprising of designs by Leutton Postle and Casper Oliver. The prints in this collection were stunning but I fell head over heels in love with the backpacks by Casper Oliver. These neoprene and PVC designs completed these outfits perfectly and I for one really want to get my mitts on a satchel of my own!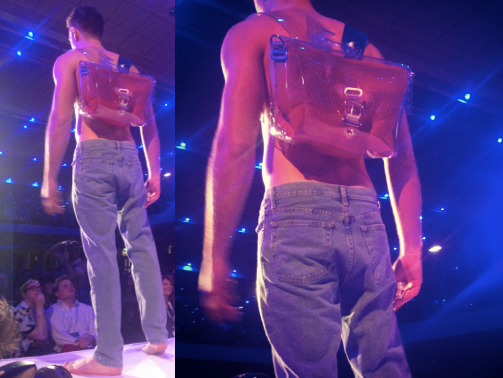 The abs were nice, but it was this bag by Casper Oliver that had my heart beating fast!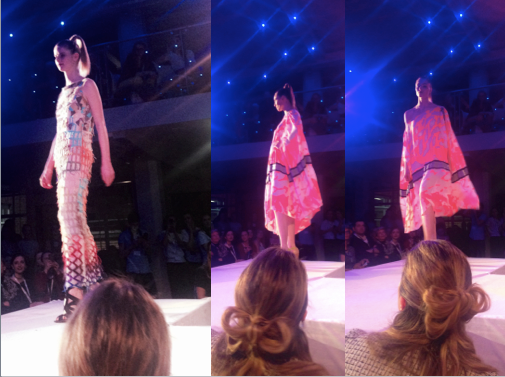 Throughout the show we were all asked to take selfies for the sponsor brand RockPamperScissors for the chance to win some fab prizes which was so much fun and a great way to get involved. Lucinda kept up live twitter feed throughout the whole show, complete with photos of all the outfits and captions detailing who the designs were by.
I really enjoyed Wanderlust and my first foray into blogging at fashion events. It's thoroughly given me the fashion show bug (LFW anyone?!). I think I definitely need to sharpen up on my photography skills though, but getting ONE non-blurred photo was an absolute achievement. It was great to meet the gorgeous
Em
, the lovely Anton and catch-up with Laura throughout the night. As 10PM hit, I had to make a quick exit and dash to work, but I'd love to thank Lucinda for inviting me down and I was gutted that I didn't get to see the remainder of the show.
Much Love,
Lauran
xxx
Instagram
||
Facebook
||
Bloglovin'
||
Twitter